Employees
Toby Brousseau
Click on the card below for a copy of his c.v. To request a Word version, click here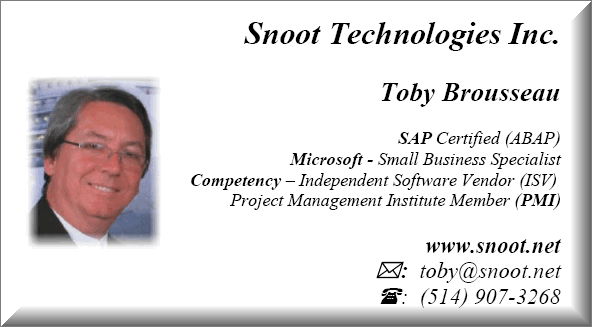 Solutions Architect, Business / Technical Analyst, Developer and Trainer
Mr. Brousseau is a Montreal-based senior level consultant who has been delivering quality solutions in the IT, business process improvement and project management areas since 1985. With unequalled business experience and in depth technical expertise he has become a highly sought resource. Having occupied several management positions in both private and public administration, he has the experience necessary for quickly understanding improvement opportunities and recommending the best solutions (functional and/or technical) that will maximize your ROI, and ensure your organisation is ready to meet tomorrow's challenges.
In addition to a Senior level certification in Material Management by the Public Service of Canada, he is the owner of two copyrights for materiel management software and SAP certified (ABAP) since 1998. He is also a Microsoft registered partner (Small Business Specialist and ISV competency) and member of the Project Management Institute (PMI) familiar with various methodologies (Agile, Lean, PRINCE2, etc.).
His technical expertise complements an unrivalled business analysis and project management experience that brings to the table, the skill set necessary for delivery of end-to-end solutions (from solution design and architecture to development, deployment, documentation and training). With an exhaustive list of successfully completed projects (including over 25 SAP WMS-specific, 8 mobile-relevant, 22 business/functional analyst and numerous feasibility/business analysis and training mandates), he has (as former Head of Materiel Management at the Canadian Space Agency) assumed responsibility for inventory control, customs and excise, hazardous materials, assets management, shipping and receiving, warehousing and handled project transportation and logistics tasks supporting time-critical space initiatives ultimately placing 7 astronauts and 1 satellite in space… There is little doubt this 1-man project team can make things happen (check out the testimonials)!
Previous customers include prestigious organizations such as Canadian Space Agency, Royal Canadian Mounted Police, Bell Canada, Metropolitan Gas, MolsonCoors, MillerCoors, Johnson & Johnson, McNeil Consumer Health Care, Bombardier Aerospace, Jacob, and many others (a detailed list of previous projects is available upon request (or click here).
As SAP Global Solutions Architect and Project Manager, he elaborated requirements specifications (technical and functional), developed technical project plans and statements of work, evaluated bid proposals, and oversaw/managed their execution by outsourcing firms, partners and in-house resources.
He has successfully delivered 42 projects over a 4 ½ year period since May 2008 representing a 91% successful completion rate - defined as on time and on or below budget (some projects were in execution at the time of his departure). Among some of the more significant, we find numerous wireless enablement of warehouse processes, 4 separate SAP-WMS brewery implementations across North America (including business continuity contingency plans), SAP Upgrade, SAP-CRM, TMS-Delivery Planning Optimization, SAP-MII (deployed to 5 plants), Vendor Quality Management (integration of SAP with an externally-facing SharePoint site), Shockwatch (forklift impact monitoring solution), EDI Infrastructure Overhaul, SAP interfaces for partners and manufacturing production lines (complete list available here).
In recent years, he has been regarded as a seasoned consultant specializing in external access to SAP (via solutions such as SharePoint, K2 and Winshuttle) - especially in mobile-enablement of end-to-end business processes. He has a particular strength in wireless (connected and occasionally connected) shop floor and field service processes having delivered numerous solutions that function on a wide variety of technologies (wireless, batch, middleware data replication, SAP Console, web-based, telnet, etc.).
Solutions that are not used properly are useless. It is important to adequately convey knowledge transfer to both the client organization (to ensure autonomy) and the end-user (to ensure productivity). Mr. Brousseau has repeatedly acted as Pedagogical Consultant for Arinso International (globally recognized training firm) and developed training material (both conventional and multi-media) for end users in numerous projects.
Mr. Brousseau is highly considered by his colleagues and clients. His impeccable references are available on demand. By adding him to your team, you not only maximize your ROI through strategic positioning, but also immediately increase the probably of success for your current projects (for full details please see http://www.snoot.net).